It is quite understandable that everyone would want the best service at the best affordable price while buying a product or service. In the case of mobile phone repairs like iPhone 7 Screen Repairs it is also the same, people would definitely like to get the best repairs in best price for their phone. These days we can see people often crack the screens of the phone either by an accidental drop unknowingly or by their kids while playing around in the home.
We can fix any iPhone screens instantly at our shop in East London E13 area, Plaistow. Let it be any iPhone like iPhone 5,5s,5c, iPhone 6, iPhone 7, iPhone 8, iPhone X or XS or iPhone XS Max. Just walk in to our shop with your broken phone and get your cracked screen/LCD fixed by a replacement with a new one.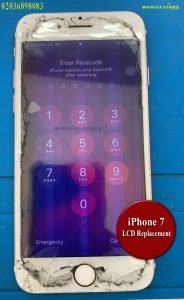 We offer the best price for quality parts of iPhone and other smart phones at our shop. We can do iPhone 7 Screen Replacement Repair in just 30 minutes in an affordable price at our shop – "Mobile Links" in East London, E13 8HJ, UK, No Fix No Fee !
Display is the most important part in any smart phone and unfortunately we often happen to break it unknowingly during our daily life activities. There are many parts available in the market but make sure the parts are good quality ones that would last for a long time. We offer very high-quality screens & LCD's for iPhones, Samsung, HTC, Huawei & many other phones at the best price compared to the market in East London.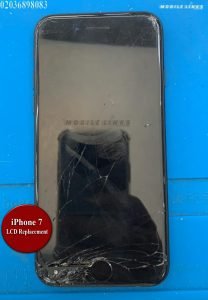 Got an iPhone 7 Broken Screen/Display ?
Repair from us in just 30 Minutes and get a peace of mind warranty in all our repair works. We also offer Free Tempered Glasses for all iPhone Screen Repairs.
What Do You Get from Us?
> Quick and Affordable iPhone Repairs
> Quality Repairs with Genuine iPhone Parts
> 30 Days Warranty in all the Repair Works
> Free Consultation for your iPhone repairs
> Free Tempered Glass for iPhone Screen Repairs
> No Fix No Fee
> Fixed by Expert Technicians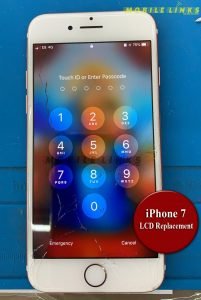 iPhone 6 and iPhone 7 were the most loved phones in 2019 and hit high records in sales the same year. But records also say that iPhone 6 and iPhone 7 were also the most ones that came for repairs especially for screen repairs and water damage repairs.
If you need iPhone 7 screen repairs instantly in 30 minutes then just pop in to our shop Mobile Links with your broken phone at 396 Barking Road, East London, E13 8HJ and get it fixed today instantly by our expert professionals with FREE Tempered Glass Protector. We guarantee you the best quality in the best price while you compare it with the market.
Other than iPhone 7 screen repairs we fix iPhone every models at our shop. Such as –
iPhone 4/4S
iPhone 5/5S/5C/5SE
iPhone 6/6 Plus
iPhone 6S/6S Plus
iPhone 7/7 Plus
iPhone 8/8 Plus
iPhone X/XR/XS/XS max
iPhone 11/11 Pro/11 Pro Max
iPhone 12/12 Mini/12 Pro/12 Pro Max
iPad 2/3/4
iPad Air 1
iPad Air 2
iPad Mini 1/2
iPad Pro
Laptop Repairs:
—————-
Laptop Broken Screen repairs
Laptop Broken Charging Port repairs
Laptop Data Retrieval & Backup
Laptop Memory upgrade
Laptop New Operating System Recovery
Laptop Virus Removal & Anti-virus installation
Laptop Water Damage Repair
Parcel Services:
========================
DHL / UPS & FedEx Service Point Access
Mobile Phone Unlocking & Accessories :
==================================
1. Mobile Phone Unlocking & Repairs
2. Mobile Phone Software Unlocking and Re-installation
3. Mobile Phone Accessories and Tempered Glasses
4. Chargers and Batteries
5. Headphones / Memory Cards
6. Bluetooth Speaker and headphones
7. FRP (Factory Reset Protection) / Google Account Removal
8. Apple iOS Upgrade & Restore
9. Samsung Boot loop Repair
10. Instant Samsung phone unlocking (same day)
11. Apple iPhone password/pin unblocking & network unlocking NOT Apple Activation Lock unblocking
NO FIX NO FEE !
All payments will be charged only after the repair work is completed successfully and handed to the customer.
If you have any more queries Please Call us at – 02036898083
Fix from us at our shop – "Mobile Links" and Get a Peace of Mind Warranty for 30 Days !
OUR ADDRESS:-
🏫"Mobile Links" is located at 396 Barking Road,
E13 8HJ, East London. (Plaistow):
☎Phone – 02036898083
✅More Info on Google Business Page – Click Here
Find Us in Google Maps
iPhone 7 Screen Repairs Instantly in 30 Minutes at  Mobile Links in East London E13 8HJ, UK