Nokia 105 Dual SIM Unlocked Phone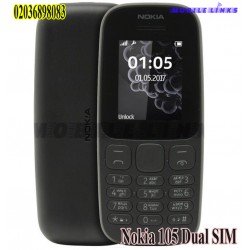 Nokia 105 Dual SIM is the most affordable and attractive designed phone from other Nokia Models with 1.8 QVGA Display and powerful battery.
Features of Nokia 105 Dual SIM:
> Classic, ergonomic design to better fit your hand

> Up to 15 hours talk time and a month on standby
> 1.8" QVGA display size for better viewing
> Island keymat for easier texting and dialing
Design:
> Shaped for your palm

> Featuring a curved, ergonomic body and an island key layout for easier dialing and texting
> Nokia 105 gives you the feeling of a solid, quality phone nestled in the palm of your hand.
Battery :
> It's good to talk

> The resilient battery offers up to 15 hours of talk time or a month on standby.
Nokia 105 Software Details:
> Nokia Series 30+ software platform

> Pre-loaded Snake Xenzia game
> Resilient battery offering up to 15 hours talk time
> FM radio
> 4 MB ROM storage
Visit our shop at - 396 Barking Road, East London, E13 8HJ
Phone - 02036898083