Vodafone UK Network Pay As You Go Triple Sim Card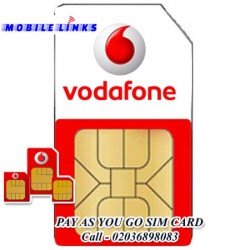 Vodafone UK Network Pay As you Go Triple Sim Card in One is available for only £0.99 at Mobile Links E13 in East London.
This Vodafone UK PAYG Sim fits to all cell phones & Accessories as it comes in a standard Three in One Sim size to fit in any mobile phone or Tablet. It has a strong network to support 3G & 4G connectivity as well !
Call - 02036898083
Condition - Brand New/Packed/Never Opened

Brand - Vodafone
Network - Vodafone UK
SIM Type - PAYG Sim Card
Connectivity - 4G/3G
SIM Format - Triple Cut SIM - 3 in One (Nano, Micro & Standard)
MPN - VODPAY G
Cost - Only £0.99
This Sim Card will work on any Vodafone Handset and Tablet. There are many rewards of Top Ups.

FREE UK Delivery ! (Within 2-3 Days)
Call - 02036898083
Vodafone Pay As You Go - Includes Standard, Micro & Nano Triple PAYG SIM Card


For bulk orders please email us with quantity required and a wholesale price can be agreed.
We ship bulk orders to all over the world. You only have to pay shipping charges.
Product Code:

Vodafone UK PAYG Triple Sim Card

Availability:

In Stock
Tags: Vodafone UK Network Pay As You Go Sim